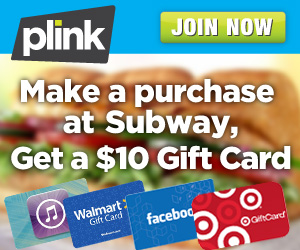 If you missed the last week's McDonald's deal don't worry!!.
Plink is offering the following deal for new members:  Sign up for Plink today, make any purchase at Subway by Sunday, 6/23 11:59 EST, and we'll give you 1,000 Plink Points – enough to redeem for a $10 Gift Card of your choice at places like Amazon.com, Target, Walmart, Kohls, Starbucks and more!
As Subway is a private offer for new members only, the offer will not appear in your Plink Wallet.
Basically you can buy ANYTHING at Subway and still receive your $10 Gift Card = MONEY MAKING DEAL!!!
Here's how Plink works:
Just sign up here and link your credit card (don't worry your info is safe). Then you will see a list of participating restaurants or shops.  You can add those to your "wallet" and when you eat out at the restaurants on the list you earn POINTS that you can later cash out in Gift Cards… is that easy!
Restaurants include: Burger King, Taco Bell, Arby's, Outback Steakhouse, 7-Eleven, Quiznos, Dunkin' Donuts, etc.
You can also earn points for using the linked credit card on the movies: Regal Cinemas, Edwards Theatres, etc